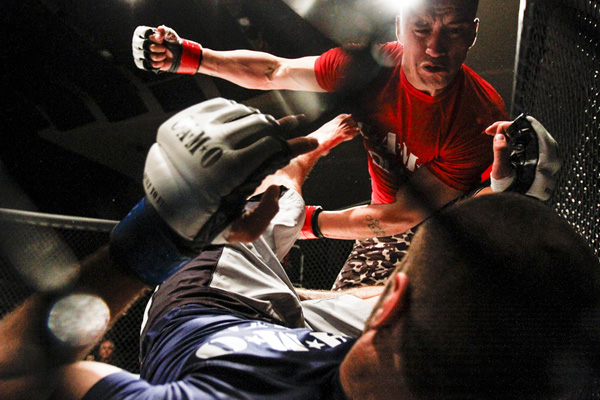 Q. How did you find out about getting a gold medal? What was your first reaction?
A. I was away from school during the middle of the day, so everyone at school found out before me. On my way to class I ran into a friend who congratulated me, and I didn't know what she was talking about. I asked if it had to do with CPOY and she said yeah, but I'll let Kim (Komenich) tell you. When I got to his office he congratulated me and told me I had won. I didn't really believe it. I ended up just pacing around our schools newsroom, unsure what to do with my excitement and energy. My friend James took silver in the same category, which was really cool because we were able to share the excitement of that day.
Q. Can you tell us something about making the winning photo?
A. It was my first time shooting Mixed Martial Arts, so I was a little nervous going into the assignment. Anytime you photograph a new sport there can be a steep learning curve. Luckily for me the access was really good, and there were a number of bouts, so I had time to adapt. The hardest part was anticipating where the fighters would go because the whole time I was shooting through a chain link fence and they move around in all directions. I was in one of the spots I found that I liked when Galvadon connected with Johnson on the other side of the octagon. Johnson stumbled backwards and fell into corner where I was, and I just got as close as I possibly could, lens right up to the fence. I remember checking my shots after the round, I saw this image, and I knew it was the strongest. I just prayed it was going to be sharp enough.
Q. How did you first get into photography?
A. I was junior college taking care of my general education requirements, dabbling in a few random classes every now and then for fun. One semester I realized I was getting close to transferring and I had a lighter schedule, so I decided to take basic photography, black and white film, to try something new, it had always seemed fun. When I transferred at the end of the year, I knew I had found my major.
Q. Who are some photographers who especially inspire you, and why do you admire them?
A. My professor Kim Komenich. I came to San Jose State because I wanted to learn from him. He's photographed it all, seen the highs and lows of our field and the world, and he is still the kindest, friendly, most helpful person. I really admire him for that. He believes in what we do as photojournalists, and that encourages me to always strive for more.
Q. Any tips for other college photographers?
A. Do the things that scare you. Leave no stone unturned. Curiosity is your ally.
Interview by Leah Beane and Hany Hawasly